It took a TEAM to build GTD...
check out this GTD documentary to learn more!
<<< RESERVE YOUR PRIVATE GROUP EVENT TODAY! >>>

Going The Distance Adventure Ministry will plan, prepare, and provide a team building event for your group that will accomplish more in one day than a month's worth of staff meetings, leadership meetings, or after-practice meetings. Team Synergy will enhance your groups ability to work together effectively by strengthening communication, improving problem-solving skills, and maximizing good decision making. Through fun outdoor Team Initiatives your group will encounter challenges that will force them to work together to successfully accomplish the task.

GTD's Team Synergy Program takes place all year long
.

Team Synergy events are available 7 days per week
CHOOSE FROM 3 HALF-DAY SESSIONS

CHOOSE FROM 2 FULL DAY SESSIONS

FULL DAY - EARLY SESSION

(9am - 4pm)

FULL DAY - LATE SESSION

(1pm - 8pm)

We offer Team Synergy events to the Tampa Bay area. GTD's Team Synergy is completely mobile for your convenience. GTD can either come to your work place, gymnasium, multi-purpose field, sports field... or GTD can meet you at a local county park or one of our beautiful Pinellas beaches. (When possible, we encourage groups to get away from their regular work environment and meet us off campus.)


Currently we do not offer PUBLIC Team Synergy events, but we do some team building on a few of our Retreats, Adventure Trips, & Mission Trips. You can find a challenging PUBLIC event that fits your level of adventure by clicking onto

our UPCOMING EVENTS link.

<<< RESERVE YOUR PRIVATE GROUP EVENT TODAY! >>>

ABOUT PRIVATE TEAM SYNERGY EVENTS
GTD will put together a series of team enhancing challenges called Team Initiatives. These challenges are usually done outdoors (but many can be done indoors as well) and do require physical activity. Team Initiatives are creative problem-solving "games" that are designed to confront and overcome common obstacles that prevent good teamwork. (*PRIVATE TEAM SYNERGY EVENTS DO NOT INCLUDE TRANSPORTATION)
TYPES OF GROUPS:

GTD offers Team Synergy events to all types of groups such as church groups, youth groups (children, middle & high school ages), Sunday school groups, athletic groups, sport's teams, college groups, young adult groups, adult groups, retired groups, men's groups, women's groups, couples, families, leadership, businesses & more

.
COOKOUT INCLUDED:
GTD wants to make this more than just a team building task... we want it to be a team building event! Meals are a great time for interaction. Because of this GTD will include a cookout for your group. Choose from breakfast, lunch, and/or dinner, we can do it all.
RESERVE YOUR GROUP'S SEAT TODAY!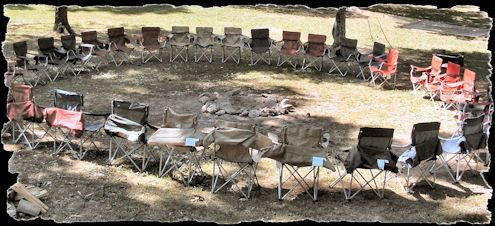 CUSTOMIZE YOUR TEAM SYNERGY EVENT
GTD will customize a series of creative, fun, and effective Team Initiatives around the problem solving difficulty and fitness levels of your group.
TYPES OF TEAM INITIATIVES:
Team Initiatives are broken down into 3 Types. All three Types of Team Initiatives can be blended together in any combination. The 3 Types of Team Initiatives are:
PROBLEM SOLVING DIFFICULTY LEVELS:
Each Team Initiatives is rated according to its problem solving difficulty:
PHYSICAL FITNESS DEMANDS:
Each Team Initiatives is also rated according to its

physical fitness demands

:
ABOUT OUR MEALS
Our participants love our meals... they're not your typical camp meals... they are so much better! The following menu is an example of what you may find on a GTD Day Trip:
BREAKFAST:

Pancakes, French Toast, Eggs w/ Biscuits & Gravy, Cereal, Fruit & Bagels
LUNCH:

Pizza Quesadillas!!; Sandwiches & Chips; Hamburgers
DINNER:

Tacos, Fajitas, Chicken Fettucine Alfredo, Spaghetti, Fish & Pasta
We don't supply many snacks so bring them if you need them. If your group has vegetarians or individuals with special dietary needs we will try to accommodate, but we need to know in advance (you may want to bring a few supplemental meals).
WHAT IS INCLUDED
Full time guides, all activity equipment, team building initiatives, meal(s), devotions & spiritual emphasis, a lifelong memory!
WHAT IS NOT INCLUDED
Transportation,

snacks, water bottles, meals during transit, items listed on packing checklist.

The following RATES are for Private Events only and are subject to change without warning.
For Public Event RATES see each individual event on our Upcoming Events link.
- ALL PAYMENTS ARE NON-REFUNDABLE -
| | |
| --- | --- |
| TEAM SYNERGY RATES | RATES & NUMBERS |
| Group Registration Fee (one time fee per group per event) | |
| HALF Day Event (includes up to 20 people and 1 meal) | $400 (per group) |
| FULL Day Trip (includes up to 20 people & up to 2 meals) | |
| Minimum Participants Required | |
| Maximum Participants Allowed | |
| | |
| OPTIONAL UPGRADES | RATES |
| Additional Participants (HALF Day Event) | |
| Additional Participants (FULL Day Event) | |
| | |
| PRO Photography (Group) (500+ professional pics) | $249 (Half) | $499 (Full) |
| PRO Individual Photo Documentary (Individual) (150+ pics) | |
| PAYMENT SCHEDULE | DUE DATES |
| $50 Registration Fee & Signed Contract | Within 1 week of reserving |
| 25% of Total (based on up to 20 participants) | Within 1 mth of reserving |
| 25% of Total (based on up to 20 participants) | |
| 25% of Total (based on up to 20 participants) | |
| 25% of Total (based on up to 20 participants) | |
| Final Payment (for any additional participants beyond the initial 20) | |
<<< RESERVE YOUR PRIVATE GROUP EVENT TODAY! >>>