Adventure Line:

(727) FYI-9-GTD [394-9483]
Toll Free Adventure Line:

1-888-697-2479
On-Call Cell:

(727) 692-5296
Skype to Skype:

gtdTHRIVE1
Phone to Skype:

(727) GTD-ROCK [483-7625]
GTD CR Cell Phone (uno): 8459-9113
(outside CR dial 011-506-8459-9113)
---
GTD CR Cell Phone (dos): 8459-9062
(outside CR dial 011-506-8459-9062)
---
GTD CR Cell Phone (tres): _____-_____
(outside CR dial 011-506-_____-_____)
This will be the visiting group's phone # during mission trips
Costa Rica uses 8 digits in their phone numbers
.
CR International Code = 011 / CR Area Code = 506
Costa Rica Church (Bunkhouse): 011-506-2673-0054 or 011-506-2673-1760
Costa Rica (Pastor Danilo): 011-506-8816-2777 (cell)
Church & Pastor = Spanish speaking
GTD FAX (USA):
Fax:

(727) 230-4760
GTD MAILING ADDRESS:
Going The Distance Adventure Ministry, Inc.
P.O. Box 7523
Seminole, FL 33775
11495 66th St N /

Pinellas Park, FL 33773
(2nd floor - above FORTES INBOARD CONNECTION)
(Please do not send mail to our

Office Address

.
Please send all mailings to our

Mailing Address

above.)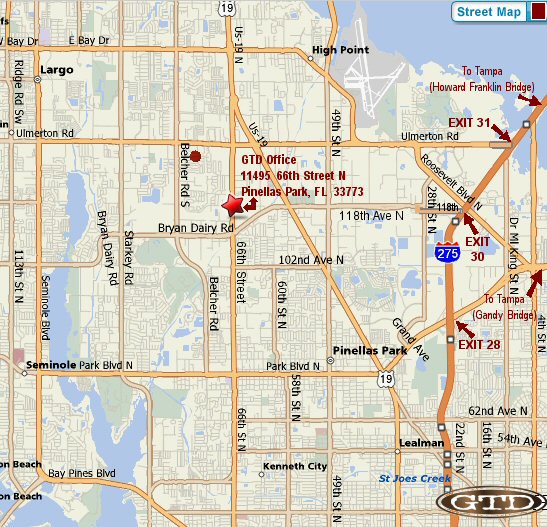 More Info:
GTD's Office is on the 2nd floor above Fortes Inboard Connection. Fortes is located on the east side of 66th St only 1/4 mile north of Bryan Dairy Rd. It's a 2 story white building with blue trim.
13201 Belcher Rd S / Largo, FL 33773
(Rotary - GLO Division)
More Info:
GTD's SITE 2 is loacted on the east side of Belcher Rd only 1/4 mile south of Ulmerton Rd (along side of Rotary - GLO Divison)