What does a GTD Day Trip look like???
Check out this GTD promo video and see for yourself!
<<< RESERVE YOUR PRIVATE GROUP EVENT TODAY! >>>

GTD's Day Trip Program is made up of half day and full day getaways that are designed to revitalize your spirit. Never underestimate the importance of play, fun, & recreation. Day Trips are a great way to involve new people, get some needed diversion, and have a whole lot of Christ centered fun!

GTD's Day Trip Program takes place all year long
.


We offer Day Trips to a variety of places in central Florida such as city parks, national forests, scenic rivers, and hundreds of other potential public land locations.


Throughout the year GTD provides 3 PUBLIC Day Trips. PUBLIC Day Trips are a great way for individuals or small groups (groups less than 12 people) to experience a God-awesome getaway at an affordable rate. PUBLIC Day Trips allow for individuals to participate without needing a sponsoring organization to reserve a trip. You can find an exciting PUBLIC event that fits your level of adventure by clicking onto

our UPCOMING EVENTS link. (For additional day events see our Team Synergy & Exertion Programs)
| | | |
| --- | --- | --- |
| | | |

<<< RESERVE YOUR PRIVATE GROUP EVENT TODAY! >>>

GTD Day Trips can be reserved for groups of 15 participants or more. GTD will plan, prepare, and provide a

custom made

day trip getaway for your group! A Regular Day Trip lasts up to 4 hours and includes 1 activity, a devotion, and 1 meal. A MEGA Day Trip lasts up to 8 hours and includes 2 activities, a devotion, and 2 meals. (*PRIVATE DAY TRIPS DO NOT INCLUDE TRANSPORTATION)
TYPES OF GROUPS:

GTD offers Day Trips to all types of groups such as church groups, youth groups (children, middle & high school ages), Sunday school groups, athletic groups, sport's teams, college groups, young adult groups, adult groups, retired groups, men's groups, women's groups, couples, families, leadership, businesses & more

.
ADVENTURES TO CHOOSE FROM:
Canoeing, Caving, Inner Tubing, Mini Adventure Races, Geocaching (GPS scavenger hunt), Snorkeling, Island Games & Cookout, Day Hike, Service Projects, Team Sports & Group Games.
MOST POPULAR PRIVATE ADVENTURE TRIP:

Our most popular Day Trip for private groups is a day of canoeing. With so many incredible waterways in Florida, it's a great way to experience the great outdoors!
ALSO POSSIBLE - GTD "NIGHT TRIPS":

GTD can also provide a night event for your group to watch an Outdoor Movie on the "big screen" (OK, actually it's a big bed sheet, but it works really good!). Outdoor Movies can work as a Regualr Day Trip or it can be the 2nd part of a MEGA Day Trip. Imagine watching a great flick on a big screen while in the middle of the forest as you pop popcorn & make smores over the campfire! It's a great experience! And we are happy to say that we use movies that have been professionally edited by Clean Play DVD to remove inappropriate language & sexual content.
GTD'S DAY TRIPS ROCK!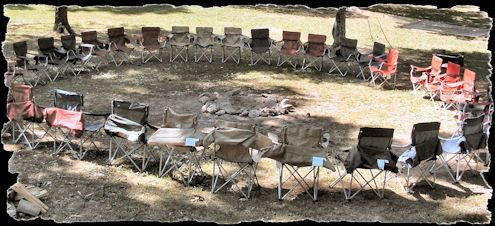 OVERVIEW OF POSSIBLE DAY TRIP AGENDA
| | |
| --- | --- |
| Regular Day Trip Agenda (up to 4 hrs) | MEGA Day Trip Agenda (up to 8 hrs) |
| | |
ABOUT OUR MEALS
Our participants love our meals... they're not your typical camp meals... they are so much better! The following menu is an example of what you may find on a GTD Day Trip:
BREAKFAST:

Pancakes, French Toast, Eggs w/ Biscuits & Gravy, Cereal, Fruit & Bagels
LUNCH:

Pizza Quesadillas!!; Sandwiches & Chips; Hamburgers
DINNER:

Tacos, Fajitas, Chicken Fettucine Alfredo, Spaghetti, Fish & Pasta
We don't supply many snacks so bring them if you need them. If your group has vegetarians or individuals with special dietary needs we will try to accommodate, but we need to know in advance (you may want to bring a few supplemental meals).
WHAT IS INCLUDED
Full time guides, all activity equipment, daily adventure(s), meal(s), devotions & spiritual emphasis, a lifelong memory!
WHAT IS NOT INCLUDED
Transportation,

snacks, water bottles, meals during transit, items listed on packing checklist.

The following RATES are for Private Events only and are subject to change without warning.
For Public Event RATES see each individual event on our Upcoming Events link.
- ALL PAYMENTS ARE NON-REFUNDABLE -
| | |
| --- | --- |
| DAY TRIP RATES | RATES & NUMBERS |
| Group Registration Fee (one time fee per group per event) | |
| Regular Day Trip (up to 4 hours) (includes 1 meal & 1 adventure) | $20 per person |
| MEGA Day Trip (up to 8 hours) (includes 2 meals & 2 adventure) | |
| Minimum Participants Required | |
| Maximum Participants Allowed (varies according to activity) | |
| | |
| OPTIONAL UPGRADES | RATES |
| | |
| PRO Photography (Group) (500+ professional pics) | |
| PRO Individual Photo Documentary (Individual) (150+ pics) | |
| | |
| | |
| PAYMENT SCHEDULE | DUE DATES |
| $50 Registration Fee & Signed Contract | Within 1 week of reserving |
| 25% of Total (based on minimal # of required participants - 15) | Within 1 mth of reserving |
| 25% of Total (based on minimal # of required participants - 15) | |
| 25% of Total (based on minimal # of required participants - 15) | |
| 25% of Total (based on minimal # of required participants - 15) | |
| Final Payment (for any additional participants beyond the required 15) | |
<<< RESERVE YOUR PRIVATE GROUP EVENT TODAY! >>>