What does a GTD Retreat look like???
Check out this GTD promo video and see for yourself!
<<< RESERVE YOUR PRIVATE GROUP EVENT TODAY! >>>

Going The Distance Adventure Ministry specializes in God-awesome mini retreats. Our aim is to supply a trip that is both exciting and spiritually powerful. We will plan, prepare, and provide a 1-4 day Christ centered getaway that will refresh your heart, revive your soul, and renew your spirit! Groups (15-60 people) love our events because GTD takes care of all the work. Just tell us what you want, reserve your spot, and show up with your group for your very own Private Retreat... It's that easy!! And individual participants can join us on one of our Public Events offered throughout the year.
| | |
| --- | --- |
| ISLAND RETREATS | FOREST RETREATS |

PEAK SEASON: Jan - Apr & Sep - Dec | SLOW SEASON: May - Aug
GTD's Retreat Program usually takes place
during the spring & fall

.


During our Peak Season (Jan - Apr & Sep - Dec) we offer Retreats to the National Forests of central Florida.

Throughout the year GTD provides several PUBLIC Retreats. PUBLIC Retreats are a great way for individuals or small groups (groups less than 12 people) to experience a God-awesome retreat at an affordable rate. PUBLIC Retreats allow for individuals to participate without needing a sponsoring organization to reserve a trip. You can find an exciting PUBLIC event that fits your level of adventure by clicking onto

our UPCOMING EVENTS link.
| | | | |
| --- | --- | --- | --- |
| | | | |

<<< RESERVE YOUR PRIVATE GROUP EVENT TODAY! >>>

GTD Retreats can be reserved for groups of 15 participants or more. GTD will plan, prepare, and provide a custom made retreat for your group! A PRIVATE Retreat lasts 1-4 Days and includes: All Camping Gear, All Activity Gear, All Cooking & Eating Supplies, Camping Meals, Campground, Leadership, Guides, Daily Devotionals, Nightly Speakers, Boat Transportation (when applicable) AND Your Group's Choice of 1-2 Retreat Activities Per Day. (*PRIVATE RETREATS DO NOT INCLUDE: Road Transportation)
TYPES OF GROUPS:

GTD offers Retreats to all types of groups such as church groups, youth groups (children, middle & high school ages), Sunday school groups, athletic groups, sport's teams, college groups, young adult groups, adult groups, retired groups, men's groups, women's groups, couples, families, leadership, businesses & more

.
ADVENTURES TO CHOOSE FROM:

Island Getaways, Caving, Canoeing, Geocaching (scavenger hunt with GPS), Mini Adventure Races, Backpacking, Inner Tubing, Swimming, Snorkeling, Team Building, Camping, Team Sports, Group Games, & Habitat For Humanity Projects

.
MOST POPULAR PRIVATE ADVENTURE TRIP:

Our most popular Retreat for private groups is a 2 night / 2 day trip (Fri night - Sun afternoon) with the following adventures: canoeing, adventure races (or team sports), & outdoor movies.
ALSO INCLUDED AT NO EXTRA CHARGE:

GTD also provides the option for your group to watch an Outdoor Movie on the "big screen" (OK, actually it's a big bed sheet, but it works really good!). Imagine watching a great flick on a big screen while in the middle of the forest as you pop popcorn & make smores over the campfire! It's a great experience! And we are happy to say that we use movies that have been professionally edited by Clean Play DVD to remove inappropriate language & sexual content.
ABOUT OUR BASE CAMP

For TEAM GTD assembling a Base Camp is more than just randomly setting up a few tents, chairs and a mess hall. We want to create an environment that you love. We want to create a Base Camp that is inviting & fun. We want your first impression of your Base Camp to be, "Wow! Sweet! I love hammocks! Who wants to play volleyball! You've got cots, cool! This place is awesome!" Those kind of responses are the kind of responses we get when we set up a Base Camp The GTD Way. The GTD Way is deliberate, creative, functional and fun. As TEAM GTD our objective is to create a temporary playground that promotes spiritual growth, recreation, community, sound sleep, physical renewal, outdoor dining, fun times, adequate hygiene and warmth while preserving a feel of being in God's amazing creation (which reveals the evidence of God). We hope you love it as much as we do!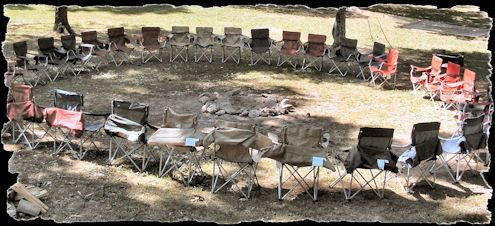 DAILY AGENDA OVERVIEW
ABOUT OUR MEALS
Our participants love our meals... they're not your typical camp meals... they are so much better! The following menu is an example of what you may find on a GTD Adventure Trip:
BREAKFAST:

Pancakes, French Toast, Eggs w/ Biscuits & Gravy, Cereal, Fruit & Bagels
LUNCH:

Pizza Quesadillas!!; Sandwiches & Chips; Hamburgers
DINNER:

Tacos, Fajitas, Chicken Fettucine Alfredo, Spaghetti, Fish & Pasta
We don't supply many snacks so bring them if you need them. If your group has vegetarians, individuals with food allergies, or individuals with special dietary needs we will try to accommodate, but we need to know in advance (you may want to bring a few supplemental meals).
WHAT IS INCLUDED
Full time guides, all activity equipment & camping gear, daily adventures, additional campsite activities, accommodations, up to 3 meals per day, devotions & spiritual emphasis, a lifelong memory!
WHAT IS NOT INCLUDED
Transportation,

snacks, individual sleeping bags, water bottles, meals during transit, items listed on packing checklist.
TO RECEIVE THESE SPECIALS SIMPLY BUY NOW


The following RATES are for Private Events only and are subject to change without warning.
For Public Event RATES see each individual event on our Upcoming Events link.
- ALL PAYMENTS ARE NON-REFUNDABLE -
| | |
| --- | --- |
| RETREAT RATES | RATES & NUMBERS |
| Group Registration Fee (one time fee per group per event) | |
| Retreat (1 Night / 1 Day) | $79 (min 20 people) |
| Retreat (2 Nights / 2 Days) | |
| Retreat (2-3 Nights / 3 Days) | |
| Maximum Participants Allowed | |
| | |
| OPTIONAL UPGRADES | RATES |
| | |
| PRO Photography (Group) (750+ professional pics) | |
| PRO Individual Photo Documentary (Individual) (250+ pics) | |
| | |
| | |
| | |
| PAYMENT SCHEDULE | DUE DATES |
| $100 Registration Fee & Signed Contract | Within 1 week of reserving |
| 25% of Total (based on minimal # of required participants) | Within 1 mth of reserving |
| 25% of Total (based on minimal # of required participants) | |
| 25% of Total (based on minimal # of required participants) | |
| 25% of Total (based on minimal # of required participants) | |
| Final Payment (for any additional participants beyond the required amt) | |
<<< RESERVE YOUR PRIVATE GROUP EVENT TODAY! >>>