LIQUID - Hillsborough River


April 03, 2010 (Sat) - Hillsborough River
CANCELLED!! - DUE TO LOW PARTICIPATION
| | | | | |
| --- | --- | --- | --- | --- |
| | | | | |
| DAY TRIP | 2.0 - ROBUST | RUGGED | 1.0 | $15* |

*There is a small transaction fee for online payments (approx $1 fee for every $25 paid online).

LIQUID CANOE TRIP

LIQUID is what we call our canoeing day trip that's open to the public. Florida is saturated with many incredible paddling destinations and GTD wants to take you there! We invite you to join us on one of our annual LIQUID paddles as we explore a different waterway in God's amazing creation. Let GTD put you in the seat of one of our Mohawk Blazer Canoes as we guide you into God's liquid playgroud. LIQUID

canoe trips are Christ-centered events that

include lunch, a daily devotion from the Bible, all canoeing equipment, full time guides, and a whole lot of God-awesome fun!!. We can take 20-30 canoers per trip. Spots do go fast so sign up today.

Call

or

email

to sign up! And pay online or by check to lock-in your spot.

LIQUID [HILLSBOROUGH RIVER]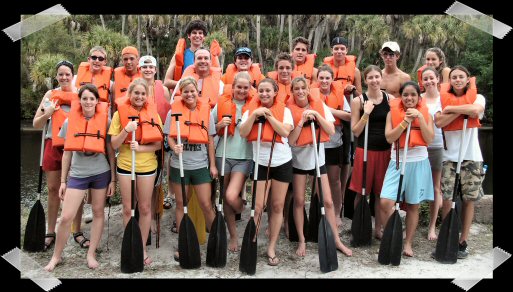 LIQUID Canoe Trip (Hillsborough River)

SPIRITUAL THEME:

DATE:

Apr 3, 2010 (Sat)

CANCELLED DUE TO LOW PARTICIPATION!!

START TIME:

9:30am (be at the canoe starting point by 9:30am)

ENDING TIME:

LOCATION:

Hillsborough River - Tampa, FL (meet at Morris Bridge Park boat ramp

)

ADDRESS:

COST PER PERSON:

TO REGISTER:

Call or email to sign-up! Pay online or by check to lock-in your spot.

TRIP DIRECTOR:

Doug Garner

CANCEL DATE:

March 31, 2010 (if minimum number of participants is not met)

MIN. PEOPLE NEEDED:

10

MAX. PEOPLE:

30

AGE RANGE:

13 years old & older

CANOE TRAIL SPECS:

Difficulty: Easy to Moderate

Skill Level: Beginner to Intermediate

Current: Slow to Moderate

Wildlife: Alligators, Turtles, Herons, Ibis, Woodstorks, Gar

Paddling Time: 2 Hours (approx)

[Please print & complete

prior to arrival]

(Any participant under 18 must

also have parent/ guardian

sign each waiver)

PHOTO ALBUMS:

Click

here

to see some pictures from previous trips.
ABOUT OUR CANOES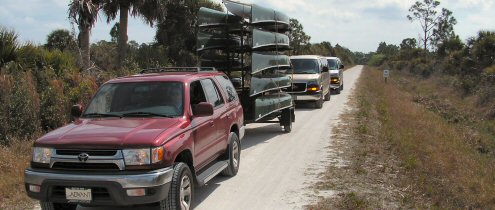 Mohawk has been building fiberglass canoes since 1964. Only the latest in construction techniques are used in building their up-to-date contemporary designs. GTD uses the Mohawk Blazer 16 which is
an excellent general purpose canoe. The shallow-arched bottom offers good stability, yet a fine entry, and a little "V" gives it ample tracking ability. It is designed to accommodate the needs of the beginner, as well as the seasoned paddler. Ideal for cruising. camping or just recreational fun.

BLAZER 16

- Length: 16', Beam at gunwale: 36", Beam at 4" waterline: 33.5", Depth: at bow 18",
at center 12.75", at stern 18".approx. weight: 67lbs. Estimated capacity: 700 lbs.
BASIC CANOEING GEAR SUPPLIED BY GTD:

Canoe
(See Clothing & Gear Checklist below for items you need to bring)
ABOUT HILLSBOROUGH RIVER
AN EXCERPT FROM CANOE ESCAPE:

"

Explore Tampa's premier attraction for bird watching, photography, canoeing, kayaking, and family memories.

Escape to nature on a downstream, quiet-water, paddling adventure through a 16,000-acre wildlife preserve. In all seasons the

Hillsborough River

astounds with its beauty and abundant wildlife. From the thousands of white ibis in the fall, the sightings of deer, wild hog, and turkey in the winter, the proliferation of songbirds in spring, and its cooling shade on a summer's day, the Hillsborough River brings a new surprise and delight around each bend.

Bring your sense of adventure and paddle through this cypress swamp full of Florida's unique flora and fauna. Perhaps paddling close to a sunning 'gator, a threatened limpkin, turtles congregating on a log, or overtop of a large-mouthed bass will be the most prized memory of your trip. Whether this is your first-time, you are an experienced paddler, a vacationer or a local resident, the Florida you're looking for is just a short paddle away!"
AGENDA OVERVIEW
Collect Waivers / Set Vehicles At Take-Out
Distribute Canoes & Gear / Canoeing Instructions
Group Picture & Group Prayer
Put-In / Start Canoeing (approx 2 hrs)
Squishee Ball Wars / Canoe Races / Individual Pictures
Canoe To Take-Out / Load Canoes & Gear
ABOUT LUNCH & SNACKS
We will eat lunch after canoeing. A sample menu for this type of trip may include your choice of sandwiches (turkey or chicken salad w/ sliced cheese or peanut butter & jelly) on whole grain bread served with chips. Typical beverages: water & lemonade. A typical snack during canoeing may be granola bars.
We don't supply a lot of snacks so bring them if you need them. Participants are usually hungry during canoeing. If you are a vegetarian or have special dietary needs we will try to accommodate, but we need to know in advance (you may want to bring a few supplemental meals).
WHAT IS INCLUDED
Full time guides, canoes, paddles, life vests, dry containers, lunch & drinks, small snacks, Christ-centered devotional, a lifelong memory!
WHAT IS NOT INCLUDED
Additional snacks, water bottles, any meals during transit, items listed on checklist (see below).
PAYMENT OPTIONS
REMINDER: THIS TRIP IS LIMITED TO THE FIRST 30 PAID PARTICIPANTS!! GTD events can be paid for with cash, checks, or debit/credit cards (online only). Click on the following links for more information or to make a payment.
EMERGENCY PHONE NUMBERS
1.888.697.2479

(GTD Main Office - Toll Free)
727-394-9483

(GTD Main Office)
727-692-0250

(GTD On-Call cell phone)
727-692-5296

(GTD Adventure Trip Director cell phone - Doug Garner)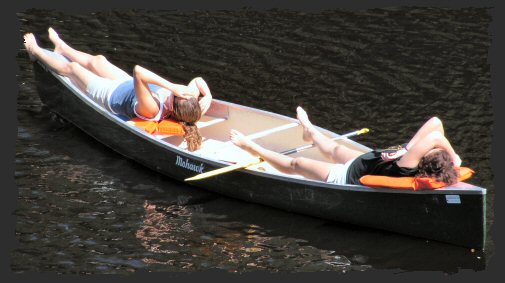 LIQUID CANOEING TRIP
CHECKLIST
WARNING: Expect to get wet. Canoes do capsize & friends do splash friends. If you don't want something to get wet or sink to the bottom of the river then you will need to waterproof it & make it float or tie it to something that floats... or consider leaving it in the vehicle.
[ ] Sandals or Watershoes or Flip Flops or Tennis Shoes
[ ] Swimsuit AND/OR:
Activity Shorts,
Activity Shirt,
Lightweight Jacket (if weather is cold or rainy)
[ ] Change of Clothes (optional)
[ ] Water Bottles (you will need at least 30 ounces of fluids)
[ ] Energy Bars / Favorite Snacks
[ ] Sunscreen - SPF 30 is recommended
[ ] Lip Balm - SPF 30 is recommended
[ ] Eyeglasses / Contacts
(if applicable)
[ ] Any Necessary Meds
(if applicable)
[ ] Waterproof Camera (optional)
[ ] 2 Plastic Bags
(for wet clothes)
[ ] 1 Zip-Lock Bags
(very handy)
DON'T BRING:
Jewelry - or - Valuables