SWAMP THING 2012 - Everglades Swamp Hike


SWAMP THING Backpacking Trip
Dec 14-16, 2012

(Fri - Sun)

- Everglades (FL)
| | | | | |
| --- | --- | --- | --- | --- |
| | | | | |
| ADVENTURE | 3.5 - TOUGH+ | EXTREME | | $75 |
*There is an additional fee to pay online. PayPal deducts approx 4% from every dollar that you pay online.

Please add 4% for every dollar paid online and enter the total cost in the "Donation amount" box

.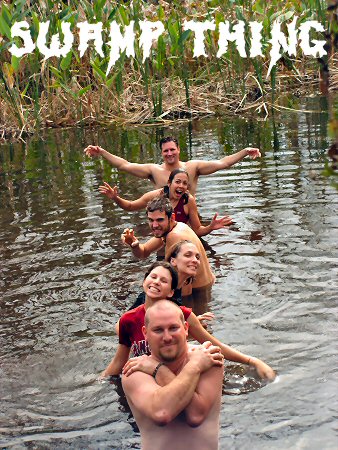 Swamp Thing is a 3 day Christ-centered journey into one of North America's unsung wild places - the Everglades of south Florida. The Big Cypress Swamp is a spectacular, rugged, rare, subtropical landscape experienced by very few adventurous souls each year. It is hauntingly beautiful. And it is enormous, covering 2400 square miles.
GTD's Swamp Thing is a 3 mile out-and-back (6 miles total) hike through the fresh water swamp that flows into the Everglades. We will trek in 3 miles and camp for 2 nights on a small pineland island which is surrounded by an endless river of grass, cypress trees, and marsh swamps. Each day we will explore some of the rarest terrain in the world. About 75% of our hiking trail is through swamp water anywhere from ankle to knee deep.
This is an adventurous and challenging hike that will cause a sense of wonder and praise deep within your soul as you see the creative genius of an Almighty God. Each day we will start the morning with personal devotions and each night we will spend some time focusing on a Biblical topic. Only through God's amazing power can the grunge of a swamp be used to refresh your soul. Come and see why adventurers haven't experienced

anything

until they've experienced

The Swamp Thing

.
POISON IVY WARNING: There is some poison ivy at this camp. Learn what it looks like and avoid touching it. Not everyone is allergic to poison ivy.

Check out this SWAMP THING promo video!

SWAMP THING (EVERGLADES)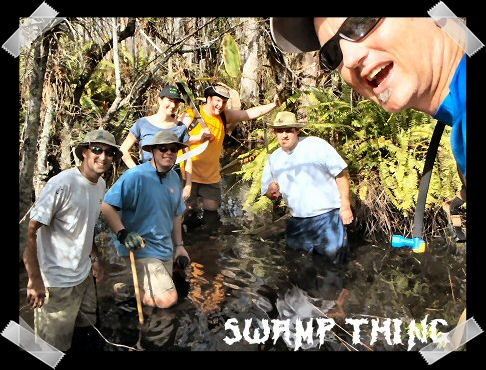 SWAMP THING Everglades Backpacking Trip

Dec 14-16, 2012 (Fri - Sun) (3 Days / 2 Nights)

$75 (plus backpacking meals)

ALL PARTICIPANTS MUST PREREGISTER!!

6:30am (Departure time from GTD office)

10:00am (Meeting at the trailhead at I-75 Rest Area; Mile Marker 63)

2:00pm (Complete hike back to I-75 Rest Area; Mile Marker 63)

9:00pm (Return back to the GTD office by 9pm)

Big Cypress Swamp (

Everglades

) - FL

Ivy Camp in Big Cypress Swamp (very small pineland island)

Click here for MAP | GPS:

26° 07.609'N; 81° 03.538'W

Dec 7, 2012 (If minimum # of participants is not attained)

JUNGLE HAMMOCKS

AVAILABLE THRU GTD

- Backpacking

(3.5 miles in; 3 miles out; 1.5 miles exploration = 8 miles total)

- Set up Base Camp

(cut down high grass/weeds; build fire pit)

- Exploration

(Explore surrounding swamp area)

[Please print & complete

prior to arrival]

(Any participant under 18 must

also have parent/ guardian

sign each waiver)

Click

here

to see some pictures from previous trips.
ABOUT OUR BASE CAMP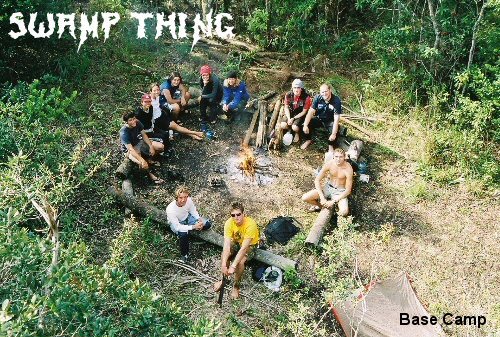 POISON IVY WARNING: There is some poison ivy at this camp. Learn what it looks like and avoid touching it. Not everyone is allergic to poison ivy.
BASE CAMP SURFACE: Pineland Island - Dry
BASE CAMP SIZE: Small (15-20 people max)
BASE CAMP CONDITION: Sometimes overgrown. Each year we spend the first two hours setting up our base camp by chopping down any overgrown weeds, etc & building our fire pit.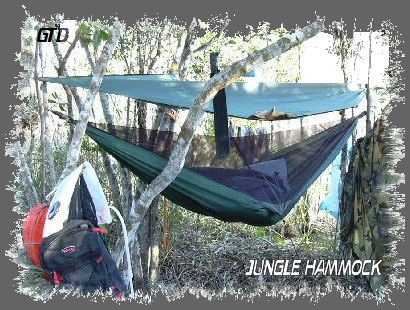 Cocoon hammock set-up
VIDEO
ABOUT THE TRAIL
Check out this swamp race video!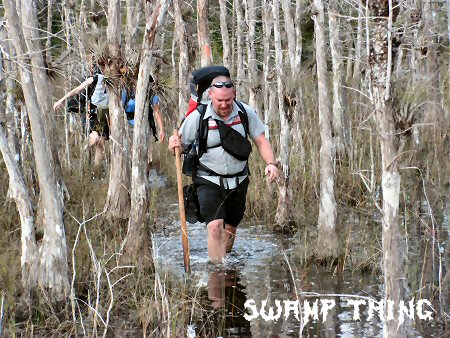 TRAIL LENGTH: 3 Miles - One Way (6 Miles - Round Trip)
TRAIL CONDITIONS: Dry Land (25%), Swamp - Ankle Deep+ (50%), Sludge (25%)
TRAIL BLAZES: This hike is part of the Florida Trail and is marked with orange blazes on trees.
HIKING PACE: Expect to hike at approx 1 mph (3 hrs one way)
In this photo provided by the Everglades National Park, the carcass of a six-foot American alligator is shown protruding from the mid-section of a 13-foot Burmese python Monday, Sept. 26, 2005 in Everglades National Park, FL, after the snake apparently swallowed the alligator resulting in the deaths of both animals. Pythons have become a problem in the Everglades.
--
ABOUT THE TRAILHEAD & REST AREA / PARKING LOT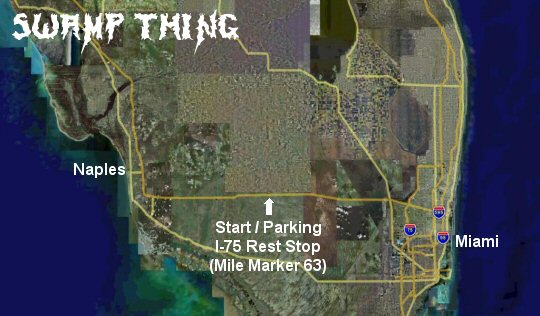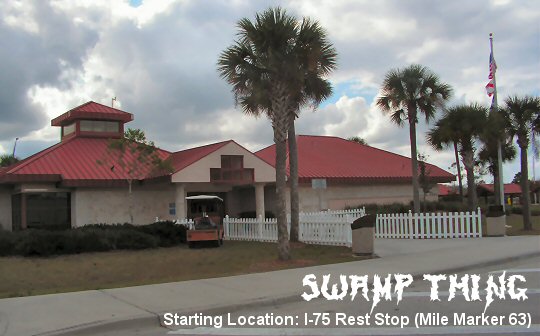 DRIVING DISTANCE FROM LARGO: 200 Miles (3 hrs) (Mostly Interstate)
TRAILHEAD FACILITIES: Restrooms, vending machines, picnic shelters, free drinking water, water hose, trash cans, cell phone tower, electricity. This will be available at the start & finish of the trip.
PARKING: We will be parking in front of the cell phone tower. If you are meeting at the trailhead you need to consider this: GTD can not guarantee the safety of your vehicle (your vehicle may be stolen, broken into, towed, or damaged). Park at your own risk!
DAILY AGENDA OVERVIEW
Depart for Everglades

Pack Backpacks & Eat Lunch
ABOUT BACKPACKING MEALS
WHERE TO PURCHASE: Most grocery stores such as Publix have great selections at low costs. Sporting good stores carry specialty backpacking meals that usually cost a little bit more.
AMOUNT: Bring enough food for 7 camping meals plus trail snacks.
SIZE, WEIGHT, & PACKAGING: Food should be lightweight & waterproof. Seal it in zip-lock bags. Try not to bring heavy canned foods.
STOVE & COOKWARE: There will be camp stoves, utensils, mess kits, and cooking pots supplied.
BACKPACKING MEAL EXAMPLES: Some examples of backpacking foods are instant mashed potatoes & instant gravy, tortillas & pepperoni with sealed cheese, Ramen noodles, Lipton pasta packets, vacuum-sealed tuna fish, vacuum-sealed salmon, vacuum-sealed chicken breast, Ragu 6-pack spaghetti w/sauce, granola/breakfast bars, pop tarts, freeze dried foods, pastas, oatmeal, dried fruits, peanut butter, jelly packets, hard rolls, nuts, m&m's, raisins, sunflower seeds, trail mix, etc. PLEASE DON'T BRING MAC & CHEESE - IT BURNS TO THE COOKING POTS.
MEALS DURING TRANSIT: Bring money for meals during transit. We will be eating at 2-3 restaurants such as Subway, Cracker Barrel, Sonny's, Wendy's etc.
WHAT IS INCLUDED
Full time guides, backpacks, cocoon jungle hammock, some camping supplies, cooking supplies, daily devotions & spiritual emphasis, a God-awesome lifelong memory!
WHAT IS NOT INCLUDED
Transportation, backpacking food, sleeping bag, water bottles, meals during transit, items listed on checklist (see below).
PAYMENT OPTIONS
GTD events can be paid for with cash, checks, or debit / credit cards. To pay online with a debit or credit card scroll to the top of this link and click on the Pay Now button. Click here for cash & check payments.

GTD ALSO OFFERS PAYMENT PLANS
EMERGENCY PHONE NUMBERS
1.888.697.2479

(GTD Main Office - Toll Free)
727-394-9483

(GTD Main Office - Tampa Bay area)
727-692-0250

(GTD On-Call cell phone)
727-692-5296

(GTD Trip Director cell phone - Doug Garner)
BIG CYPRESS RANGER STATION
239-695-2000 or 239-695-1201
(Big Cypress Headquarters)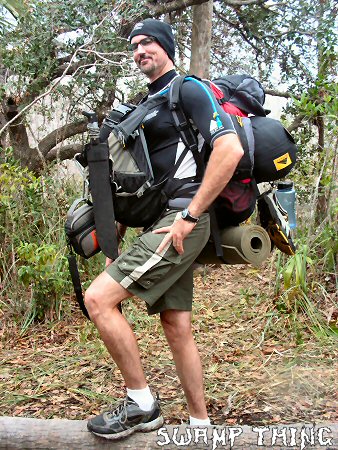 SWAMP THING

CHECKLIST (Items with an * can be borrowed from GTD)

GEAR

CLOTHING
TOILETRIES

[ ] "Travel" Bible

(may get wet!)

[ ] Backpacking Meals x 7

[ ] Food Money (during ride)

[ ]

Jungle Hammock

*

or SM Tent

[ ] Flashlight w/ New Batteries

[ ] Sun Screen / Lip Balm

[ ] Poncho

(everyone must have)

[ ] 3 Zip-Lock Bags

(very handy)

[ ] Favorite Snacks / Energy Food

(T-shirts/Hats if available)

Bring proper amounts of activity clothes that are lightweight & quick drying. Pack according to weather forecasts.

[ ] Active Wear Pants / Jeans

[ ] Change of clothes (for ride back)

[ ] Note:

Your shoes will get trashed (wet, muddy, scratched, etc). It's a good idea to bring a pair of old tennis shoes that you can dispose of after the trip.

TOILETRIES:

Toilets & showers will NOT be available.

[ ] Biodegradable Shampoo

[ ] Wet Wipes (very handy!)

[ ] Deodorant

(please bring!)

[ ] Hair Care / Gel / Spray

[ ] Half roll of Toilet Paper

[ ]

Note:

The more weight you carry the less fun you will have. Try to only bring what you need. Luxury items may seem like a good idea until the 2nd mile of your hike.

DON'T BRING:

Jewelry - or - Valuables