SLAMMED [GA] - High Intensity Adventure Trip in GA


2013 SLAMMED Adventure Trip (18th ANNUAL)
Aug 1-5, 2013

(Thur - Mon)

- Cornelia, GA
| | | | | |
| --- | --- | --- | --- | --- |
| | | | | |
| ADVENTURE | 3.5 - TOUGH+ | RUGGED | 5.0 | $199* + Rafting |
*Online payments available thru PayPal. Enter the total cost of the event(s) in the "Donation amount" box.

18TH ANNUAL SLAMMED ADVENTURE TRIP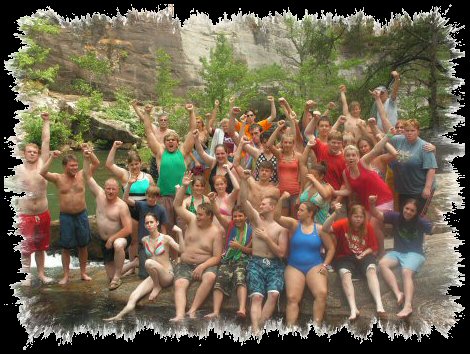 SLAMMED is GTD's original favorite. This is the Adventure Trip that started it all! SLAMMED is the first trip (and only trip) offered by GTD in 1996 and God used it to give birth to our full time year-round ministry today (ALL glory to God!).
Over the course of 5 days GTD slams you with several heart-pounding adrenaline-pumping adventures that will exhilarate you to the core! In our time together we will travel to Chattahoochee National Forest in northeast Georgia to go camping, rock climbing, rappelling, whitewater rafting, waterfall sliding, and hiking. Now you see why we call it SLAMMED!
We will set up our base camp in an amazingly beautiful national forest and visit nearby waterfalls!!! We will chase after all of these adventures as we explore the majesty of God's creation. And that's not even the best part, we will also explore the majesty of God's presence through daily devotions, praise & worship, and nightly challenges from the Bible as we hang out around the camp fire.
SLAMMED will challenge you and potentially change your life as you grow closer to God, make new friends, encounter & overcome fears, and engage in some of the most outrageous adventures of your life! Instead of getting so busy that you feel crammed, take 5 days to jump start your life by getting SLAMMED!

Check out this SLAMMED promo video!

SLAMMED (GEORGIA)

18th Annual SLAMMED Adventure Trip (GA)

Aug 1-5, 2013 (Thur - Mon) (5 Days / 4 Nights)

$199 +Rafting

(rafting is optional and costs approx $40 for the Ocoee River & $100 for the Chattooga River)

IF YOU ARE PLANNING ON RAFTING YOU NEED TO HAVE THE $100 RAFTING FEE PAID BY JULY 1st. WE CAN NOT GUARANTEE ANY SPOTS WILL BE AVAILABLE IF YOU DON'T ACT QUICKLY... RAFTING SPOTS GO FAST!!

5:30pm (at campsite in GA) | Departing Largo @ 5:30 A.M.

9:30am (at campsite) | Returning back to Largo around 9:30pm (hopefully!)

Cornelia, GA (Chattahoochee National Forest)

Nancytown Group Campsite at Lake Russell Wildlife Management Area

Click here for MAP | GPS: 34°30'7.49"N, 83°28'52.81"W

TENTS: Large Coleman 12´x12´ Evanston tents with hinge door system.

(Sleeps up to 4 with cots)

- Camping

- Waterfall Slide at Tallulah Gorge

- Option 1: White Water Rafting Trip (Chattooga River) (Add $100)

- Option 2: White Water Rafting Trip (Ocoee River) (Add $40)

- Option 3: Inner Tubing (Helen, GA) (Add $10)

3 DEPARTURE / MEETING SPOTS ON THURSDAY AUG 1ST:

1) Largo (5:30am):

Meet @ Smiley's Coffeehouse [

MAP

]

12685 Ulmerton Rd, Largo Florida 33774

(First Baptist Church of Indian Rocks)

Meet in the rear lot of Smiley's (see map). Thank you!

From I-75 take

Exit 279 (SR54) East for

1/2 mile. Publix is on Right.

We do not recommend leaving your vehicle here. Arrange to be dropped off.

Lake Russell Wildlife Management Area - Cornelia, GA

(GPS: 34°30'7.49"N, 83°28'52.81"W)

GTD CAN NOT GUARANTEE VEHICLE SAFETY AT ANY LOCATION!

RETURNING ON MONDAY NIGHT (AUG 5th):

Our goal is to return back to Wesley Chapel around 8.00pm & Largo around 9.30pm on Mon Aug 5th. These are goals.

Many factors can influence the return time. We ask that people riding with GTD be flexible on this time.

[Please print & complete

prior to arrival]

(Any participant under 18 must

also have parent/ guardian

sign each waiver)

Click

here

to see some pictures from previous trips.
ABOUT OUR BASE CAMP

For TEAM GTD assembling a Base Camp is more than just randomly setting up a few tents, chairs and a mess hall. We want to create an environment that you love. We want to create a Base Camp that is inviting & fun. We want your first impression of your Base Camp to be, "Wow! Sweet! I love hammocks! Who wants to play volleyball! You've got cots, cool! This place is awesome!" Those kind of responses are the kind of responses we get when we set up a Base Camp The GTD Way. The GTD Way is deliberate, creative, functional and fun. At TEAM GTD, our objective is to create a temporary playground that promotes spiritual growth, recreation, community, sound sleep, physical renewal, outdoor dining, fun times, adequate hygiene and warmth while preserving a feel of being in God's amazing creation (which reveals the evidence of God). We hope you love it as much as we do!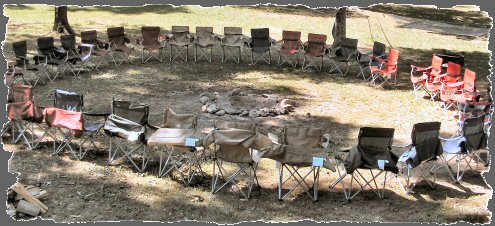 ABOUT OUR MAIN ACTIVITIES
INCLUDED ADVENTURES

TOP ROPE ROCK CLIMBING & RAPPELLING:

Top-rope climbing & rappelling is all about having fun and being as safe as possible. Top-roping is the safest form of climbing. It offers the rock climbing experience with all the rewards but minimal risks by allowing you to climb a rock face with the safety

rope

always anchored above you minimizing your falling distance to only inches or a few feet.

HIKING & WATERFALL SLIDE:

This will be one of the most exciting adventures of the trip as we visit sliding rock at Tallulah Gorge State Park. In order to get to sliding rock we first have to hike down 1 mile into the gorge. There we will spend several hours sliding down a smooth waterfall into an emerald green natural pool surrounded by 400' rock cliffs. Be warned though, this hike is strenuous!

---

PICK ONE OPTIONAL ADVENTURE (ADDITIONAL FEE)

Chattooga River - Section IV (High Adventure : Best rafting in the southeast!)

Want something exciting? Desire incredible scenery? Section IV has it all. You'll crash through the class IV+ rapids from which legends are made: Woodall Shoals, Seven Foot Falls, Ravens Chute, Deliverance Rock. (Think something looks familiar here? It should, you've probably seen Burt Reynolds slide past this mammoth boulder as he's swimming in a scene from the movie Deliverance.) We'll stop long enough to view the astounding waterfalls of Stekoa and Long Creek Falls as they cascade into the river, just to let you catch your breath! Then, as the canyon deepens and the river rounds a hard right turn and drops out of sight and an ominous roar seems to make the entire raft tremble with excitement, prepare yourself for the world renowned Five Falls, starting with Entrance, flying through Corkscrew, slipping through the narrow line at Jawbone, and finally over the big drop at Soc-em-Dog, you'll drop a total of about 100 feet over a little more than a third of a mile!

TRIP LENGTH: 7 Hrs (Class III-V; Intermediate to Advanced)

LUNCH: Included on the river!

MINIMUM AGE: 13

ADDITIONAL COST: $100/ person

-------------------

Ocoee River - Middle Section

(Most popular river in the east!)

The Ocoee River

is one of the most popular whitewater rivers in the nation. No other river in the East offers the degree of challenge and consistent water flow that is found here. In fact, the Ocoee has been rated one of the ten best whitewater rivers in the country by

Canoe Magazine

. It has been chosen as the site of national whitewater championships on several occasions as well as home of the 1996 Olympic Whitewater competition.

The Ocoee River is dam-controlled, so even in the driest months the water levels stay constant. You'll not only enjoy the thrill and excitement of America's favorite and most popular whitewater adventure, but you'll also enjoy a trip through the beautiful and dramatic Ocoee Gorge in the Cherokee National Forest. The Ocoee River offers two different sections of the river, the Upper Section and the Middle Section. On this trip your group will be doing the Middle Section.

The Middle Section: This section will thrill you from launch to takeout. You'll feel the excitement as you enter a non-stop journey with over 20 continuous Class III and IV Rapids that drops an exhilarating 260 feet from start to finish.

TOTAL TRIP LENGTH: 2-3 Hrs (includes transport time)

DIFFICULTY LEVEL: Class III-IV; Intermediate+ (

There is NO EXPERIENCE NECESSARY)

MINIMUM AGE: 12

REQUIREMENTS: Fully enclosed shoes, watershoes or sandals with an ankle strap

ADDITIONAL COST: $40/person

------------------------------------------------------------------
| | |
| --- | --- |
| >> | NOT INTERESTED IN WHITE WATER RAFTING? HERE'S ANOTHER OPTION - INNER TUBING THE CHATTAHOOCHEE RIVER!: Come enjoy a relaxing afternoon at Cool River Tubing Company and float your cares away! Take an exciting tubing trip down the scenic Chattahoochee River. Tube trips include your tube, U.S. Coast Guard approved life preserver, a shuttle service and a relaxing float through the scenic Alpine Village of Helen, GA. (Additional Cost: $10/person) |
DAILY AGENDA OVERVIEW
ABOUT OUR MEALS
Our participants love our meals... they're not your typical camp meals... they are so much better! The following menu is an example of what you may find on a GTD Adventure Trip:
BREAKFAST:

Pancakes, French Toast, Eggs w/ Biscuits & Gravy, Cereal, Fruit & Bagels
LUNCH:

Pizza Quesadillas!!; Sandwiches & Chips; Hamburgers
DINNER:

Tacos, Fajitas, Chicken Fettucine Alfredo, Spaghetti, Fish & Pasta
We don't supply many snacks so bring them if you need them. If you are a vegetarian or have special dietary needs we will try to accommodate, but we need to know in advance (you may want to bring a few supplemental meals).
WHAT IS INCLUDED
Full time guides, transportation for the first 20 paid participants, rock climbing, rappelling, hiking, God-awesome swimming holes & waterfall slide, additional campsite activities, all activity equipment & gear, accommodations, up to 11 meals, devotions & spiritual emphasis, a lifelong memory!
WHAT IS NOT INCLUDED
Optional w

hite water rafting or inner tubing (additional fees), snacks, individual sleeping bags, water bottles, meals during transit, items listed on checklist (see below).
PAYMENT OPTIONS
GTD events can be paid for with cash, checks, or debit / credit cards (online only). To pay online with a debit or credit card scroll to the top of this link and click on the Pay Now button. Click here for cash & check payments.

GTD ALSO OFFERS PAYMENT PLANS
EMERGENCY PHONE NUMBERS
1.888.697.2479

(GTD Main Office - Toll Free)
727-394-9483

(GTD Main Office - Tampa Bay area)
727-692-0250

(GTD On-Call cell phone)
727-692-5296

(GTD cell phone - Doug Garner)
CHATTAHOOCHEE NATIONAL FOREST
706-782-3320

(Ranger Station)
SLAMMED ADVENTURE TRIP

CHECKLIST

CLOTHING

TOILETRIES

[ ] "Travel" Bible

(may get wet!)

[ ] Flashlight w/ New Batteries

[ ] Sun Screen / Lip Balm

[ ] Poncho

(everyone must have)

[ ] 2 Plastic Bags

(wet clothes)

[ ] 2 Zip-Lock Bags

(very handy)

[ ] Glasses/Contacts

(if needed)

[ ] Necessary Meds

(if needed)

[ ] Favorite Snacks / Energy Food

Bring proper amount of activity clothes that are lightweight & quick drying.

[ ] Active Wear Pants / Jeans

[ ] Note:

If you are white water rafting then you must wear shoes (or sandals with ankle straps)

Toilets & showers will be available.

[ ] Biodegradable Shampoo

[ ] Wet Wipes (very handy!)

[ ] Deodorant

(please bring!)

[ ] Hair Care / Gel / Spray

DON'T BRING:

Jewelry - or - Valuables