GRUNGE 2012 - Caving Trip (White Cliff Cave)


2012 GRUNGE Caving Day Trip
Feb 18, 2012

(Sat)

- Ocala, FL
| | | | | |
| --- | --- | --- | --- | --- |
| | | | | |
| ADVENTURE | 3.5 - TOUGH+ | HARDCORE | 2.0 | |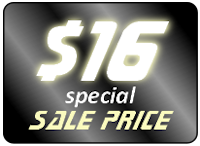 *There is an additional fee to pay online. PayPal deducts approx 4% from every dollar that you pay online.
Please add 4% for every dollar paid online and enter the total cost in the "Donation amount" box.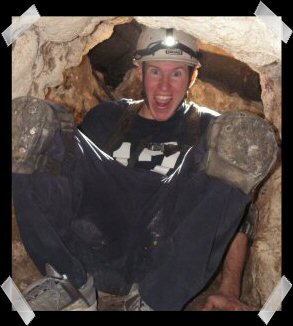 GRUNGE is GTD's underground caving adventure. It's a whole other world under the ground and GTD wants to take you there. Whether you are walking through limestone caverns, wading through underground rivers, or crawling through bowling ball sized holes you will be blown away by the playground God created beneath the surface of the earth. GRUNGE is the essence of being a kid - exploring holes and passage ways that will both challenge & amaze you. GTD will equip you with all of the safety gear you need as you light up the darkness and discover a whole new world of hidden adventures. GRUNGE is a Christ centered event that is seasoned with prayer and provided in a Godly Christian atmosphere.

Check out this GTD video of the Smiley's group caving in White Cliff Cave!

GRUNGE [WHITE CLIFF CAVE]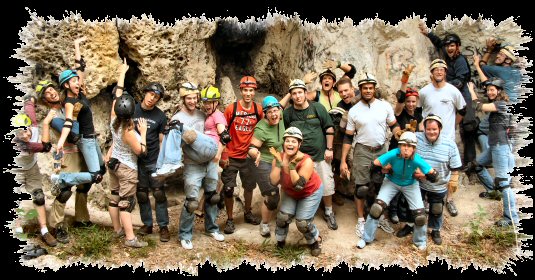 $

25

...$16 (16th Anniversary Special Price!!)

(includes lunch)

ALL PARTICIPANTS MUST PREREGISTER!!

Ocala, FL (White Cliff Cave)

Brick City Park -

1211 SE 22nd Rd, Ocala, FL 34471

Click here for MAP | GPS:

29°09.957'N; 82°07.364'W

6 years old & older (12 & under must be accompanied by an adult)

TRANSPORTATION:

Carpool (Transportation is not supplied by GTD)

MEET-UP SPOTS:

There are 3 different meet-up locations to choose from. GTD does not supply transportation or organize carpools for this event, but we will have a representative at each location to help coordinate the convoy =). Please be early or right on time!!

1) Largo (8

:00am

): Meet @ Smiley's Coffeehouse [MAP]

12685 Ulmerton Rd, Largo Florida 33774

(First Baptist of Indian Rocks)

Meet in the rear lot of Smiley's (see map). Thank you!

From I-75 take

Exit 279 (SR54) East for

1/2 mile. Publix is on Right.

Meet in the southwest end of the Publix parking lot (see map).

1211 SE 22nd Rd, Ocala, FL 34471

(GPS:

29°09.957'N; 82°07.364'W

)

**Park in the "CAVING PARKING AREA" as seen on map.

GTD CAN NOT GUARANTEE VEHICLE SAFETY AT ANY LOCATION!

Our goal is to finish up at Brick City Park around 3:00pm. This is a goal.

Many factors can influence the time of completion. Since this is a carpool event you may depart at any time during or after the event.

[Please print & complete

prior to arrival]

Caving Waivers (sign at cave)

(Any participant under 18 must

also have parent/ guardian

sign each waiver)

Click

here

to see some pictures from previous trips.
ABOUT CAVING

Caving is also known as "spelunking" and it is the recreational sport of exploring caves (not to be confused with speleology which is the scientific study of caves). Caving can be fun, exciting and adventurous; it can also be challenging - both physically and mentally. In addition to walking, cave exploration may require a caver to crawl, climb and squeeze in, over, under and through passage ways in order to navigate through the cave. Because of this, caving gear & basic instructions are supplied in order to help add safety, comfort & efficiency to this underground adventure. Let's take a look at the basic caving gear, an overview of the cave, and some basic safety instructions.
BASIC CAVING GEAR SUPPLIED BY GTD:

Helmet

Headlamp

Knee Pads

Bottled Water

Snacks

(See Clothing & Gear Checklist below for items you need to bring)
ABOUT WHITE CLIFF CAVE & SOME BASIC CAVING INSTRUCTIONS
WHITE CLIFF CAVE SPECS

BEGINNER LEVEL CAVE:

White Cliff Cave is considered a great starting place for new cavers as well as a good challenge for experienced cavers. Beginner level doesn't mean it's easy. This cave will work you out. Heavy use thru the years makes it good for groups. Conditions are total darkness & warm year round. Ground ranges from dry to muddy. No bugs.

ELEVATION CHANGES & ROUTE:

The entrance of the cave is an immediate drop of 3 feet. After traversing 75 feet across, the cave drops down another 12 feet. There are 2 main brances of the cave to explore. Each branch forms a loop and eventually returns to the start. About 60% of the cave requires crawling. Approx 2-3 hrs to explore the entire cave.

WARNING: Caving can be a tight squeeeeeze!

White Cliff Cave entrance will accommodate participants up to 275lbs [More Pics]

---

BASIC CAVING INSTRUCTIONS FROM THE NSS

The following points will help you be mentally prepared, safer, and have a better caving experience.

GTD is a member of the National Speleological Society (NSS). The following caving techniques & suggestions are summarized from those found on the NSS website:

BASIC CAVING INSTRUCTIONS




1)

Three points of contact

should be exhibited when moving over uneven ground to help prevent mishaps. This means having three points on your body supported on immovable objects. Whether it is a foot, a shoulder and a knee; an elbow, head and right hip; or your hand, bottom and back.


2)

The group needs to stay together. Never cave alone. There should be a minimum of four people on each trip.


3)

Know your limitations, rest frequently and watch for fatigue in others.

4)

Do not leave trash behind

, pick up others' trash, do not vandalize and do not take souvenirs. Everyone should know the importance of cave conservation on the trip. The caver's motto: Take nothing but pictures, leave nothing but footprints, and kill nothing but time.


5) The slowest caver sets the pace

. Caving is a team effort.


6) Don't take risks.

Caves can be the most remote places you'll ever go. Even a minor injury could put your life at risk in a cave. Rescuing a person from a cave is a very technical and difficult operation.


7) Carry out trash.

Take anything you bring into a cave out with you (including solid waste). If you find some trash pack it out with you. All responsible cavers do.


8) Do not touch formations.

Even tiny cave formations take thousands of years to develop. The oil on your skin can kill delicate cave formations.


9) Panic is your worst enemy

. If lost in a cave remain calm, conserve your light and stay in one place. Let the rescuers come and find you.


10) If your light fails: Stay put!

Caving in the dark will lead to injury and possibly death.
AGENDA OVERVIEW
Drive to Cave Site /

Collect Waivers
Distribute Caving Gear / Caving Instructions
Group Picture & Group Prayer
Start Caving (approx 2-3 hrs underground)
Underground Devotional & Individual Pictures
Exit Cave /
Turn In Gear / Change Clothes
ABOUT LUNCH & SNACKS
We will eat lunch before caving. A sample menu for this type of trip may include your choice of sandwiches (turkey or chicken salad w/ sliced cheese or peanut butter & jelly) on whole grain bread served with chips. Typical beverages: water & lemonade. A typical snack during caving may be granola bars.
We don't supply a lot of snacks so bring them if you need them. Participants are usually very hungry after caving. If you are a vegetarian or have special dietary needs we will try to accommodate, but we need to know in advance (you may want to bring a few supplemental meals).
WHAT IS INCLUDED
Full time guides, access to the cave, caving, all caving equipment & gear, lunch & drinks, small snacks, Christ-centered devotional, a lifelong memory!
WHAT IS NOT INCLUDED
Transportation, additional snacks, water bottles, any meals during transit, items listed on checklist (see below).
PAYMENT OPTIONS
GTD events can be paid for with cash, checks, or debit / credit cards. To pay online with a debit or credit card scroll to the top of this link and click on the Pay Now button. Click here for cash & check payments.

GTD ALSO OFFERS PAYMENT PLANS
EMERGENCY PHONE NUMBERS
1.888.697.2479

(GTD Main Office - Toll Free)
727-394-9483

(GTD Main Office - Tampa Bay area)
727-692-0250

(GTD On-Call cell phone)
727-692-5296

(GTD cell phone - Doug Garner)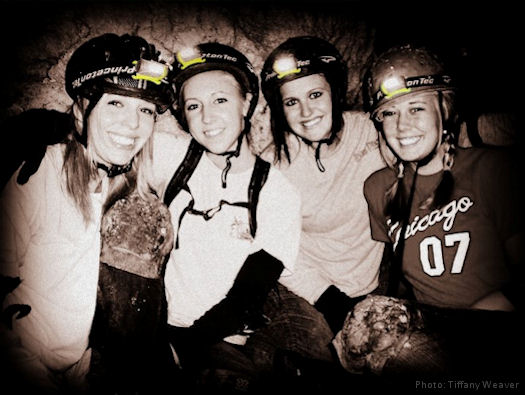 GRUNGE CAVING TRIP
CHECKLIST
WARNING: Clothing will get filthy while caving.
[ ] Thick Non-White T-Shirt
[ ] Sturdy Old Tennis Shoes or Hiking Boots (NO open toe shoes!!!)
[ ] Water Bottles (you will need at least 30 ounces of fluids)
[ ] Energy Bars / Favorite Snacks
[ ] Change of Clothes & Old Towel (to wipe off dirt & mud)
[ ] Eyeglasses / Contacts
(if applicable)
[ ] Any Necessary Meds
(if applicable)
[ ] Waterproof Camera (optional)
[ ] 2 Plastic Bags
(for dirty clothes and to protect car seats)
[ ] 1 Zip-Lock Bags
(very handy)
[ ] GTD WAIVER 1
(Filled out and SIGNED prior to participating!)
DON'T BRING:
Jewelry - or - Valuables