PADDLE PROWL 2012 - Ocklawaha River
PADDLE PROWL CANCELED DUE TO ISAAC
DUE TO THE POTENTIAL IMPACTS OF TROPICAL STORM / HURRICANE ISAAC
PADDLE PROWL HAS BEEN CANCELED.
Paddle Prowl was scheduled for
Sept 1-3, 2012 (Sat-Mon) (Labor Day Weekend). A new date will be announced soon.


2012 PADDLE PROWL Canoe Camping Trip
Sept 1-3, 2012

(Sat - Mon: Labor Day Weekend)

- Ocala, FL (Ocklawaha River)
| | | | | |
| --- | --- | --- | --- | --- |
| | | | | |
| RETREAT | 3.0 - TOUGH | HARDCORE | 3.0 | |
*There is an additional fee to pay online. PayPal deducts approx 4% from every dollar that you pay online.

Please add 4% for every dollar paid online and enter the total cost in the "Donation amount" box

.

PADDLE PROWL CANOE CAMPING TRIP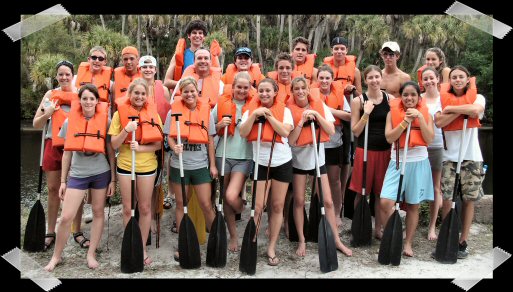 PADDLE PROWL is what we call our multi-day canoe camping trip that's open to the public. People come to Florida from all over the US to paddle down some of the best waterways in the country. Many of these watery destinations stretch for hundreds of miles and take several days to experience by canoe or kayak. PADDLE PROWL is designed to help paddlers get a taste of some of Florida's top liquefied paradises as we prowl down another one of God's amazing creations. Let GTD put you in the seat of one of our Mohawk Blazer Canoes as we pack in our gear and lurk down God's viscous playgroud. When we aren't paddling we will either be playing in the water, fishing for dinner, setting up camp, or spending time growing in our faith. It's a God-awesome Christ-centered total package!
We can take up to 20 canoers per trip. Spots do go fast so sign up today.

PADDLE PROWL PROMO VIDEO COMING SOON
PADDLE PROWL CANCELED DUE TO ISAAC
DUE TO THE POTENTIAL IMPACTS OF TROPICAL STORM / HURRICANE ISAAC
PADDLE PROWL HAS BEEN CANCELED.
Paddle Prowl was scheduled for
Sept 1-3, 2012 (Sat-Mon) (Labor Day Weekend). A new date will be announced soon.

PADDLE PROWL (OCKLAWAHA RIVER)

PADDLE PROWL Canoe Camping Trip (Ocklawaha River)

Sept 1-3, 2012 (Sat-Mon: Labor Day Weekend)

(3 Days / 2 Nights)

9:30am (be at the canoe put-in by 9:30am on Saturday Sept 1, 2012)

2:00pm (Monday Sept 3, 2012)

Ocklawaha River - Ocala, FL

Ray Wayside Park (Ocala / Silver Springs, FL)

Located off Hwy 40 (12 miles east of Interstate 75)

Click here for MAP | GPS: 29°12.841'N; 81°59.528'W

Aug 27, 2012 (if minimum number of participants is not met)

16 years old & older (10-15 years old if accompanied by an adult)

- Camping along shoreline

- NO Restrooms /

NO Showers

JUNGLE HAMMOCKS

AVAILABLE THRU GTD

Distance: 20 Miles (4 miles on Sat; 9 miles on Sun; 7 miles on Mon)

Source: Spring & Swamp Fed

Scenery: Very Good

Difficulty: Moderate

Skill Level: Beginner to Intermediate

Water Type: Fresh water

Current: Approx 3 mph (Moderate)

Clarity: Tea colored (Low Visibility)

Width: 30-60 Feet

Route: Winding

Shade: 40%

Wildlife: Alligators, Turtles, Herons, Ibis, Woodstorks, Gar

Paddling Time: 2 Hours on Sat; 3-4 Hours on Sun; 2-3 Hours on Mon

WE WILL BE MEETING AT THE RAY WAYSIDE BOAT RAMP IN OCALA.

[Please print & complete

prior to arrival]

(Any participant under 18 must

also have parent/ guardian

sign each waiver)

Click

here

to see some pictures from previous trips.
ABOUT THE OCKLAWAHA RIVER
AN EXCERPT FROM www.clubkayak.com

"

The scenic Ocklawaha River follows the edge of the Ocala National Forest in central Florida and is one of the State's only south to north flowing rivers. The river is famous for its incredible array of flora and fauna and diverse bio-habits and great paddling opportunities.

For history buffs, in the late 1800's steamboats and barges noisily traveled along the Ocklawaha river carrying people and goods from Jacksonville to Silver Springs. The boats were much smaller than those found along the Mississippi due to the Ocklawaha's narrow twists and turns.

..

The trip downriver is easy to paddle with a 3 MPH current. Always be on the lookout for deadfalls, napping alligators and erratic motorboat operators. Continuing northeast from the bridge, the river passes through several narrow sections with high limestone bluffs and small sand beaches that offer a nice place to take a quick break. About three-quarter way to the take-out, you'll come across abandoned buildings and cleared yards that once belonged to local farmers... Trees along the river form a beautiful canopy..."
ABOUT OUR CANOES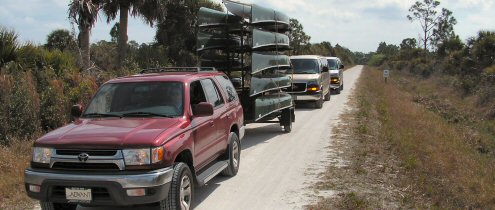 Mohawk has been building fiberglass canoes since 1964. Only the latest in construction techniques are used in building their up-to-date contemporary designs. GTD uses the Mohawk Blazer 16 which is
an excellent general purpose canoe. The shallow-arched bottom offers good stability, yet a fine entry, and a little "V" gives it ample tracking ability. It is designed to accommodate the needs of the beginner, as well as the seasoned paddler. Ideal for cruising. camping or just recreational fun.

BLAZER 16

- Length: 16', Beam at gunwale: 36", Beam at 4" waterline: 33.5", Depth: at bow 18",
at center 12.75", at stern 18".approx. weight: 67lbs. Estimated capacity: 700 lbs.
BASIC CANOEING GEAR SUPPLIED BY GTD:

Canoe
(See Clothing & Gear Checklist below for items you need to bring)
DAILY AGENDA OVERVIEW
Water Proof Personal Gear

Canoeing & Safety Instructions

Group Picture & Group Prayer

Put-In / Start Paddling (approx 2 hrs)

Set-Up Camp / Fishing or Play & Free Time

Dinner / Camp Fire / Impact Point / Hangout

Breakfast /

Morning Devotions

Lunch /

Snacks /

Continue Paddling

Set-Up Camp / Dinner / Impact Point

Wake Up /

Breakfast /

Morning Devotions

Canoe To Take-Out /

Unpack Personal Gear

Load Canoes & Canoe Gear On Trailer
ABOUT THE MEALS
The meals you purchase for this trip will be similar to meals on a backpacking trip because they have to be packed in. We will be supplying you with portable backpacking stoves & cookware for cooking.
WHERE TO PURCHASE: Most grocery stores such as Publix have great selections at low costs. Sporting good stores carry specialty backpacking meals & usually cost a little more.
AMOUNT: Bring enough food for 6 camping meals plus trail snacks. It's better to have too much than not enough.
SIZE, WEIGHT, & PACKAGING: Food should be lightweight & waterproof. Seal it in zip-lock bags.
STOVE & COOKWARE: There will be camp stoves, utensils, mess kits, and cooking pots supplied.
BACKPACKING MEAL EXAMPLES: Some examples of backpacking foods are instant mashed potatoes & instant gravy, tortillas & pepperoni with sealed cheese, Ramen noodles, Lipton pasta packets, vacuum-sealed tuna fish, vacuum-sealed salmon, vacuum-sealed chicken breast, Ragu 6-pack spaghetti w/sauce, granola/breakfast bars, pop tarts, freeze dried foods, pastas, oatmeal, dried fruits, peanut butter, jelly packets, hard rolls, nuts, m&m's, raisins, sunflower seeds, trail mix, etc. PLEASE DON'T BRING MAC & CHEESE - IT BURNS TO THE COOKING POTS.
SOME PEOPLE LIKE TO freeze a small steak or some type of meat and let it thaw as we are paddling to our campsite so they can enjoy it for their first meal... you can bring a very SMALL cooler if you want to... be creative =)
WHAT IS INCLUDED
Full time guides, canoes, paddles, life vests, dry containers, camping equipment (except sleeping bags), cooking supplies, small snacks, Christ-centered devotions, a lifelong memory!
WHAT IS NOT INCLUDED
Transportation, parking fees, meals (see "About The Meals" above), fishing gear, fishing license (if applicable), additional snacks, water bottles, any meals during transit, items listed on checklist (see below).
PAYMENT OPTIONS
GTD events can be paid for with cash, checks, or debit / credit cards. To pay online with a debit or credit card scroll to the top of this link and click on the Pay Now button. Click here for cash & check payments.

GTD ALSO OFFERS PAYMENT PLANS
EMERGENCY PHONE NUMBERS
1.888.697.2479

(GTD Main Office - Toll Free)
727-394-9483

(GTD Main Office - Tampa Bay area)
727-692-0250

(GTD On-Call cell phone)
727-692-5296

(GTD cell phone - Doug Garner)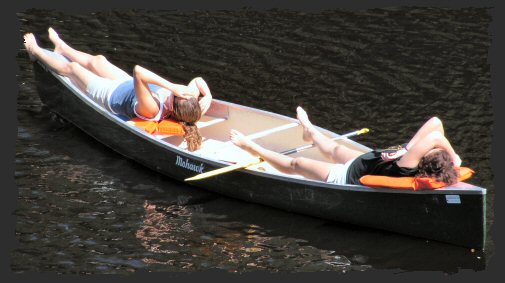 GEAR

CLOTHING
TOILETRIES

[ ] "Travel" Bible

(may get wet!)

[ ] Flashlight w/ New Batteries

[ ] Sun Screen / Lip Balm

[ ] Poncho

(everyone must have)

[ ] 2 Plastic Bags

(wet clothes)

[ ] 2 Zip-Lock Bags

(very handy)

[ ] Glasses/Contacts

(if needed)

[ ] Necessary Meds

(if needed)

[ ]

Jungle Hammock

or SM Tent

WARNING: Be prepared to get wet. Canoes do capsize & friends do splash friends. If you don't want something to get wet or sink to the bottom of the river then you will need to waterproof it & make it float or tie it to something that floats... or consider leaving it in the vehicle.

Bring minimal yet proper amount of activity clothes that are lightweight & quick drying.

Pack according to weather forecasts

.

[ ] Seasonal Jacket (optional)

[ ] Lightweight Pants (optional)

[ ] Activity Shoes (optional)

[ ] Watershoes or Sandals

Toilets & showers will NOT be available. We will be "going" in the woods. It's actually kind of fun.

[ ] Biodegradable Shampoo

[ ] Wet Wipes (very handy!)

[ ] Deodorant

(please bring!)

[ ] Hair Care / Gel / Spray

[ ] Half roll of Toilet Paper

DON'T BRING:

Jewelry - or - Valuables