CR2009 [July] - COSTA RICA MISSION TRIP!

NEXT COSTA RICA MISSION TRIP:
EZ PAYMENTS ARE NO LONGER AVAILABLE FOR THIS TRIP.
AIRFARE IS STARTING TO GO UP - PURCHASE YOUR TICKETS TODAY!!!
You must arrive in San Jose, Costa Rica by 12:00pm on Saturday, July 25th!
Your departing flight must be out of Costa Rica at 12:00pm or later on August 1st!


-

Cost

a Rica Mission Trips -

(3 Ways To Pay Online: Pay Full Amount Now, 4 E-Z Payment Plan or 9 E-Z Payment Plan)

Pay Full Amount Now

4 E-Z Payment Plan

9 E-Z Payment Plan

Not Available for this trip

8 DAY TRIP

8 DAY TRIP

8 DAY TRIP

*PayPal service charge is added to the price at checkout (*read more info here)
CR2009 [July] MISSION TRIP SUMMARY
On GTD's Costa Rica Mission Trip

(CR2009 - July) you will visit the adventure capital of the world as your mission team aids in the intial

building stages of a Christian missions base that will eventually include an orphanage, fish farm, medical center, school, retreat center and a distribution center.
CR2009 [July] will take you to Guayabo, Costa Rica where your team will spend 6 days building a small portion of the missions base and participate in community outreaches. At the mission base your team will be doing construction projects that will eventually serve the needs of the local community and will benefit the local churches for years to come...and on into eternity.
In addition to work projects your team will visit nearby communities & churches, interact with native Costa Ricans, journey to some of the most beautiful scenery in the world, and enjoy a few extreme adventures. Throughout the entire trip we will be eating some incredible Costa Rican meals that are sure to include rice, beans and fresh fruits.
In addition to all of the work & play, GTD will put together an entire trip that is focused on our Lord, Savior, Hero & Best Friend - Jesus. God not only wants to build something through you, He also wants to build something in you. If God only used 6 days to build the entire universe, imagine what He will build in 8 days as we seek Him first. Praise & worship, daily devotions, prayer, nightly teaching & fellowship will help make this the best trip of your life!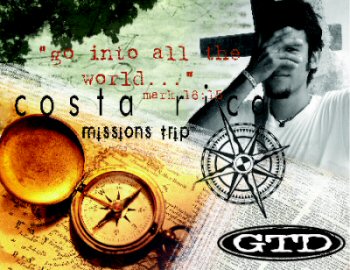 DATE:

July 25 - Aug 1, 2009 (Pending flight schedule) (Sat-Sat)

(8 Days / 7 Nights)

EVENT:

CR2009 [July]: Costa Rica Mission Trip

$700 + Airfare (airfare: approx $300 - $650) (plus Passport)

AGE RANGE:

SIGN UP DEADLINE:

MINIMUM # NEEDED:

10 participants required (minimum) |

(Currently signed up: 4 )

MAXIMUM #:

40 participants

LOCATION:

Guayabo, Costa Rica - Central America

(GPS: 10°41'37.11"N 85°12'59.83"W)

(Guayabo is in the Guanacaste region of Costa Rica)

> Block House & Bunk Houses on the mission property

> Bunk beds (bring bedding & pillow)

> Includes flush toilets; electricity; "lukewarm" & cold showers

> No A/C available... it's a mission trip in a 3rd world country!!!

MISSION:

> Construction & improvement projects on mission property

> Community outreach (

or sports & recreation outreach)

ADVENTURES:

> Includes Canopy Tour

(Zip Lin

es in the Rain Forest)

> Includes Thermal Mania

(Hot springs swimming area)

TO REGISTER:

> Have 2 Character Reference Forms completed (Click here for forms). One form should be filled out by a Pastor or Sunday School Leader or your Boss and the other form can be filled out by a family member or close friend.

>

As of May 1st, the first two payments are due

($350).

EZ Payment options are no longer available. (Click here for payment info)

PASSPORT INFO:

Everyone is required to have a current

Passport

. (Visa not required)

NOTE: Costa Rica officials will not allow anyone into the country with a

Passport

that expires within 6 months before or after the date of your trip.

ARRIVAL INFO:

GTD does not provide

Air Travel. Secure your tickets today!

---

MEETING PLACE &

TIME IN COSTA RICA:

Meet @ San Jose airport by 12pm Saturday, July 25, 2009

(specific meeting location at airport to be announced)

---

FLIGHT INFO: Jet Blue Airlines Flight #1695 from Orlando (MCO) Airport to San Jose (SJO) Airport landing in Costa Rica @ 11:25am.

RETURN INFO:

RETURNING FROM COSTA RICA INFO:

We will be returning to San Jose airport by 9:00am Saturday, Aug 1st , 2009 (book your departing flight for 12:00pm or later)

(please make flight departure time at least 3 hours later than when we are scheduled to return to the airport)

---

FLIGHT INFO: Jet Blue Airlines Flight #1696 from San Jose (SJO) Airport at 12:20pm and landing in Orlando (MCO) Airport (United States) @ 5:30pm.

REQUIRED WAIVERS:

(Any participant under 18 must also have parent/guardian sign each waiver)

PHOTO ALBUM:

Find past CR Mission Trip pictures here.

MISSION TRIP TEAM MEETINGS

All meetings will take place at ________________ unless otherwise noted.

Attendance required. If you are unable to attend call Erika Rodriguez to make substitute arrangements.

Full time GTD mission guides, local guides, translators, transportation/fuel within Costa Rica, mission projects & activities (see above), accommodations during event, up to 25 meals (and some snacks) while in CR (except @ airport),

travel medical insurance, missions t-shirt, d

evotionals, the trip of a lifetime!

WHAT IS NOT INCLUDED

Airfare, air travel arrangements,

Costa Rica airport exit tax ($26),

meals @ airports or meals outside of Costa Rica, accommodations (or any other expense) before &/or after mission trip, individual bedding & pillow, any gratuities for local guides, unscheduled snacks, souvenirs, optional activities not booked in advance, any costs incurred by lost or stolen passports, water bottles, i

tems listed on checklist (see below).

REMINDER: AIRFARE IS SEPARATE AND MUST BE PURCHASED BY EACH INDIVIDUAL

If paying by cash or check you can divide the cost into 4 equal payments (or pay in full):

| | |
| --- | --- |
| 1st Payment: $175 due March 25, 2009 | 2nd Payment: $175 due April 25, 2009 |
| 3rd Payment: $175 due May 25, 2009 | 4th Payment: $175 due June 25, 2009 |

1)

CASH

(Prepay @ office

)

3) PAY ONLINE NOW

(top of this link)

(Use your Debit/ Credit Card to pay online. There is a service charge.)

(Use your Debit/ Credit Card to pay online. There is a service charge.)

CANCELLATION POLICIES

Cancellation & Transfer Policies

1. Intial Deposits are Non-Refundable.

2. Deposits may be transferred to another person for same trip.

(check your airline agreement to see their transfer policy)

3. Cancellations 151+ days prior to trip GTD retains 30% of trip price.

4. Cancellations 91-150 days prior to trip GTD retains 50% of trip price.

5. Cancellations 00-90 days prior to trip GTD retains 100% of trip price.

Also: Trip cancellation insurance is available through most travel agencies and online. Please investigate your options and purchase insurance if desired.

Costa Rica

(Country Code: 011) (*CR now added an "8" to cell phones & a "2" to land lines)

011-506-8357-6151 (

GTD CR cell phone)

011-506-2673-1334

(Missionary house phone - Juan)

011-506-8358-7899

(Missionary cell phone - Juan)

United States

(Country Code: 001 when dialing to US from outside of US)

1-888-697-2479

(GTD Main Office- Toll Free)

727-394-9483

(GTD Main Office - local call within Tampa Bay area)

727-692-0250

(GTD On Call cell phone)
Artist rendering of projected FUTURE CR Mission Center
GTD is part of a multiyear multifaceted mission project in partnership with
Banyan Resources
MISSION TRIPS (INTERNATIONAL)

GEAR

OPT GEAR / TOILETRIES

CLOTHING

MANDATORY GEAR:

(check airline for size limits)

[ ] Money (souvenirs/airport meals)

[ ] "Travel" Bible

(may get wet!)

[ ] Small Flashlight w/ New Batt.

[ ] Sun Screen / Lip Balm

[ ] Poncho

(must have this)

[ ] 2 Plastic Bags

(for dirty clothes)

[ ] 2 Zip-Lock Bags

(very handy)

[ ] Eyeglasses / Contacts

[ ] Any Necessary Personal Meds

(check airline for size limits)

[ ] Lightweight Sleeping Bag

[ ] Camera & SD Card/Film

[ ] Favorite Snacks / Energy Food

[ ] Travel Games, Magazine, I-Pod

(T-shirts/Hats available)

Toilets & showers will be available.

[ ] Shampoo / Conditioner

[ ] Wet Wipes (very handy!)

[ ] Deodorant

(please bring!)

[ ] Hair Care / Gel / Spray

[ ] Toilet Paper (Half Roll)

GENERAL CLOTHING:

Bring proper amount of activity clothes that are lightweight & quick drying.

[ ] Active Wear Pants / Jeans

[ ] Activity Shoes / Work Boots

[ ] Note:

If your group is doing construction then pack work clothes (work pants, T-shirt, & gloves) and work shoes/boots.

[ ] Note:

If your group is white water rafting then each rafter must wear shoes or sandals with ankle straps.

DON'T BRING:

Jewelry - or - Valuables